Integrated in the former monastery, our 68 modern and stylish hotel rooms invite you to experience nature, peace and tranquillity.
Modern and Tastefully Furnished Rooms
All our double and single rooms come equipped with every convenience necessary.
The former Cartusian monastery is authentically preserved and beautifully restored. Within the monastery's old walls you will find the Thurgau Art Museum, Ittingen Museum, a farm with its own gardens, vineyard and cheese dairy, as well as a wood oven bakery. Restaurant Mühle with its idyllic garden is an inviting spot to linger and enjoy your break.
The Price Includes a Whole Array of Services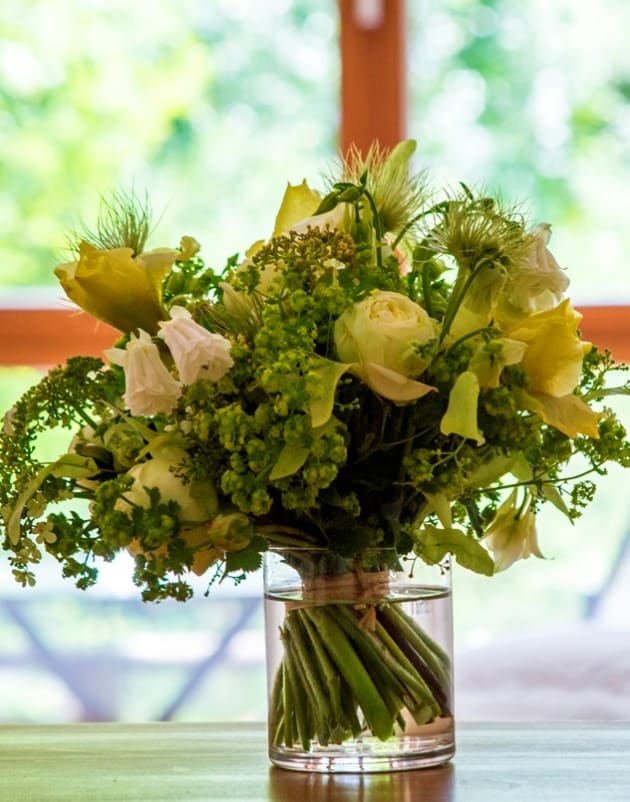 Overnight stay and generous breakfast buffet with many products from our farm estate
Free entry to Ittingen Museum and Thurgau Art Museum
Use of the hotel's bicycles
A variety of beverages in the rooms
Wi-Fi on the whole premises
Outside parking space (200 places)
Thurgau apples, fresh country air, tranquillity and relaxation
'Ittingen Walk' – a guided tour of the monastery
Access to the small library with information about the history of the Charterhouse
You Have a Choice of Five Categories
Single Room With Garden View (12m2)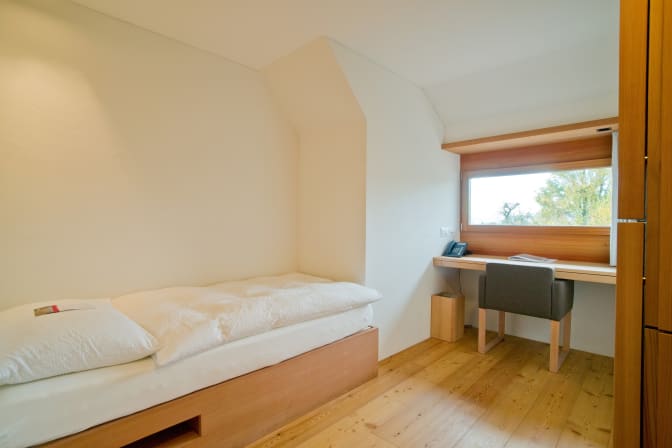 Monastic but modern room with larch wood furnishings and wooden floor. View of the former monastery and the 80-year-old walnut tree. Small but beautiful.
Rates from CHF 125.– to CHF 225.–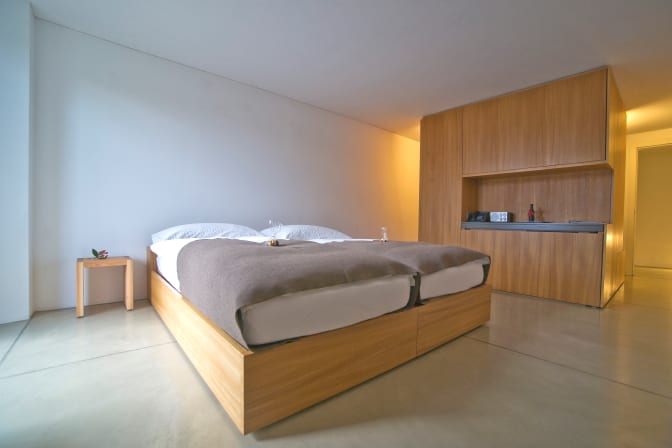 The pared-down design creates an atmosphere of puristic simplicity and calm. Special architectural features are the cast concrete floor and the walk-in cube made of exclusive elm wood.
Rates from CHF 165.– to CHF265.– for one person
Rates from CHF 205.– to CHF305.– for two
Crib / additional bed 20.– / 40.– / 60.–
Garden Room With Balcony/Terrace (18m2)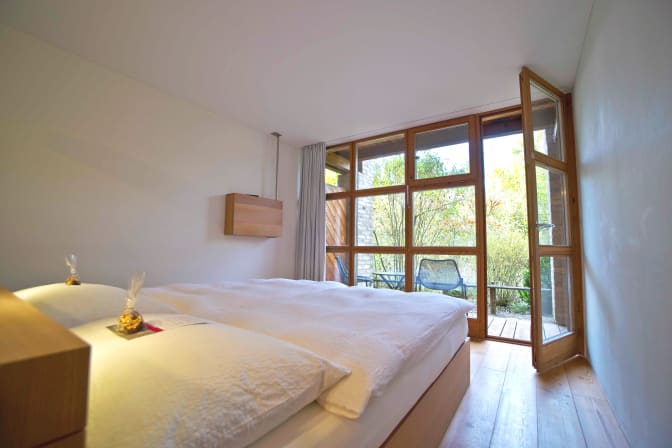 Located between forest and garden, the cosy garden rooms come with either balcony or terrace. Floor-to-ceiling windows and pine wood floors offer additional convenience.
Rates from CHF 185.– to CHF 285.– for one person
Rates from CHF 225.– to CHF 325.– for two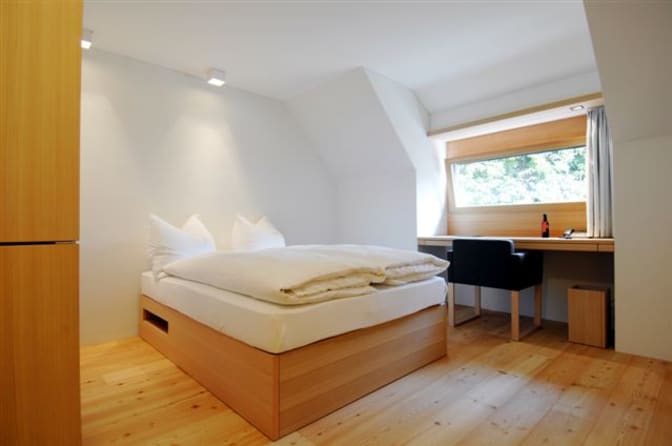 Comfortable and elegant room with French bed (140cm), situated at the edge of the forest, with view of the countryside and the former monks' cells.
Rates from CHF 145.– to CHF 245.– for one person
Rates from CHF 185.– to CHF 285.– for two
The attic mini suite with its comfy sitting area offers plenty of space for your well-being. Captivating view of the restored monks' cells and the romantic north farm.
Rates from CHF 245.– to CHF 345.–
Special Requirements and Requests
Are you planning to bring your dog? Do you need a horse box? Would you like to keep you room till noon or 4pm? Do you need a wheelchair accessible room, or a room with connecting door? You can book these extra options online. Alternatively, call or email us, we will be happy to help.
Materials of the Finest Quality and a Love for Detail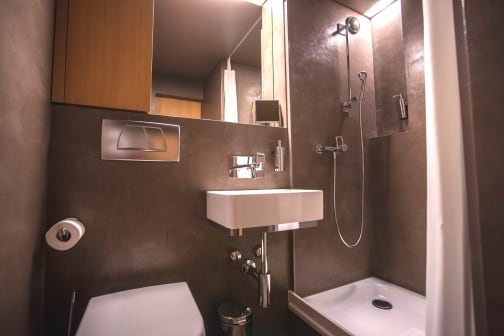 simple and stylish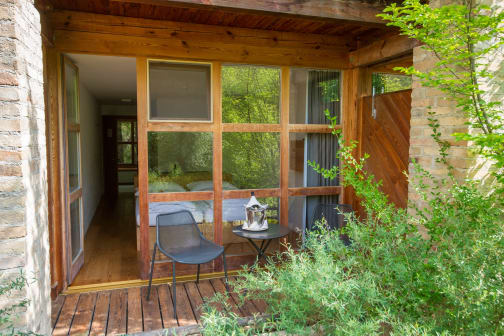 cozy and private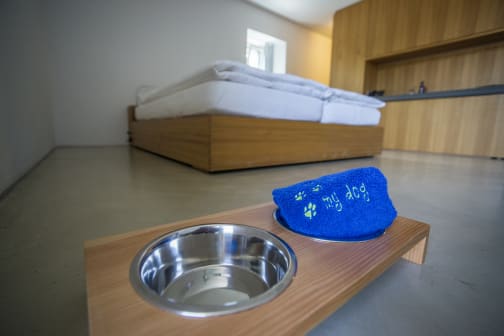 in our Design rooms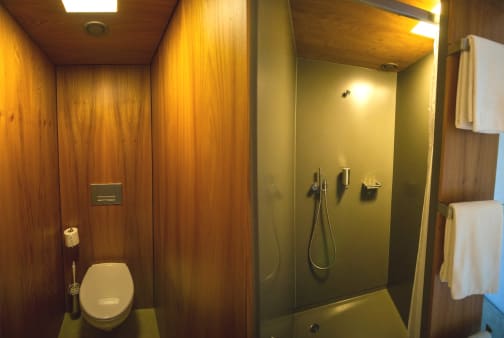 built into the wooden cube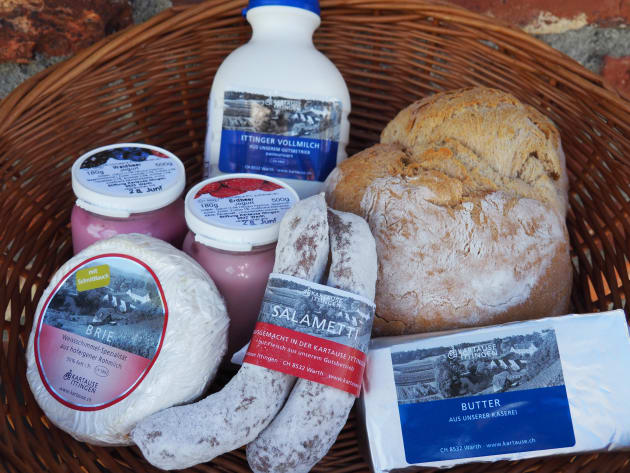 Carthusian Box for You to Take Home
When you stay with us, you can pre-order our Ittingen food box to take away with you on checking out. For only CHF 20.– you will get a loaf of crusty hand-made wood oven bread, butter (100g), milk (5dl), two pots of fruit yoghurt (180g each), a raw milk Brie from our dairy and a pair of delicious salametti from our in-house butchery to console you over that empty fridge at home.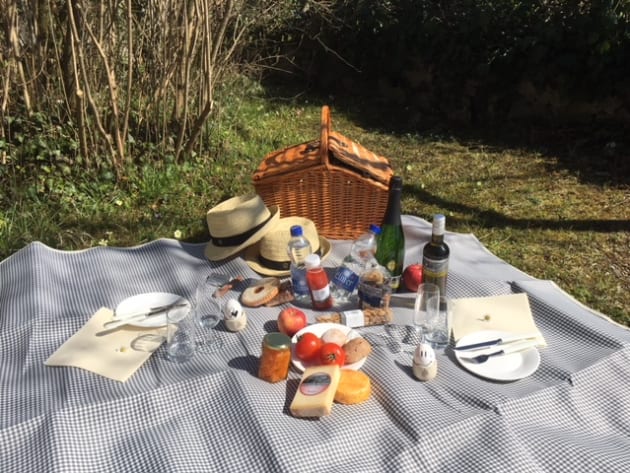 BBQ Picnic for Your Countryside Outing
When you book your room, why don't you also order a BBQ picnic to take on a trip to the Thur valley, to Lake Nussbaum or Lake Constance? Our reception team will be happy to tell you where to find the most beautiful spots. Whether you cycle, walk or drive there, our box with delicious Ittingen specialities is all you need for an unforgettable day in the countryside.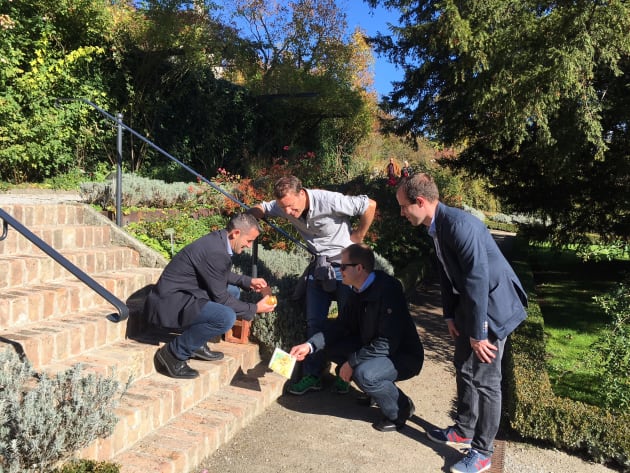 Ittingen Scavenger Hunt
A sixty-minute or so discovery tour, Ittingen scavenger hunt will take you to various, partly hidden locations on the premises, from the farm estate to the yard and the gardens, the source, Jacob's ladder, the museums and the pond. Use your powers of deduction to discover the former monastery's hidden corners you would otherwise not get to see .
Booking
Our team is looking forward to taking your bookings.